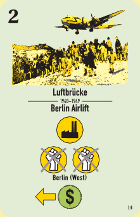 Yellow card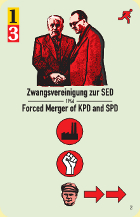 Red card
The game comes with 84 playing cards. These are the mechanical engine of the game. The cards are divided into 4 decades. Each card refers to one important event of german-german history, for instance Berlin Airlift, the short term Berlin visa agreement, or the forced merger of the SPD and KPD.

Every card has a title, a graphic art, a value and an iconized effect of the event. When the graphic art is yellow, it is a yellow card; when it is red, it is a red card.

The colour of the graphic tells you which side is profiting from the event.

Some cards have 2 different values. The one in the yellow box is valid for West, the one in the red box is valid for East.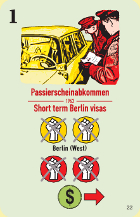 Dual card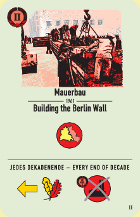 Special card of
decade II
Some cards have a mixed red-yellow graphic art. These cards are called dual cards. (They have their title in red characters for even clearer differentiation.)

For each decade there exists 1 special card. This card refers to a most incisive event, for instance to the building of the Berlin wall.